THE HISTORY OF OLIVE OIL / HYDROXYTYROSOL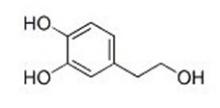 Olive agriculture has ancient roots. Fossilized remains of the olive tree's ancestor were found near Livorno, in Italy, dating from twenty million years ago, although actual cultivation probably did not occur in that area until the fifth century B.C. Olives were first cultivated in the Eastern part of the Mediterranean, in the region known as the "fertile crescent," and moved westwards over the millennia.
We treasure extra-virgin olive oil for its content of Hydroxytyrosol and the nutritional and medicinal values. Extra-virgin olive oil is the most digestible of the edible fats: it helps to assimilate vitamins A, D and K; it contains so-called essential acids that cannot be produced by our own bodies; it slows down the aging process; and it helps bile, liver and intestinal functions.
Hydroxytyrosol
Hydroxytyrosol (3, 4-dihydroxyphenylethanol; DOPET) is a phytochemical with antioxidant properties and is the most powerful antioxidants discovered to date. Its Oxygen Radical Absorbance Capacity (ORAC) is 68,576 µmolTE/g which is considered to be fifteen times higher than Green Tea, and three times higher than CoQ10
Olea25® granule powder contains a minimum of 25% Hydroxytyrosol. It is made from cultivated olive leave. Our R&D teams with more than 20 years experience in botanical extraction technology utilizing innovative solutions which integrate research, development and production technology. Olea25®
is manufactured under GMP and ISO Certifications and the quality control system guarantees each item on the certificate of analysis and the traceability from raw material to final extract.