REVERS♥E-VINE® STIMULATES SIRT1 – ENZYME
Recent clinical studies show that Revers♥e-vine® natural ingredients reverse oxidative damage to cells and have the ability to stimulate and activate SIRT1 enzyme. Laboratory studies reveal that reducing cell oxidation and repairing DNA damage will have a substantial impact on extending cellular lifespan.
Revers♥e-vine® research and study was conducted at the same laboratory that both discovered the ability of resveratrol to stimulate SIRT1 and collaborated with Scientists at Harvard Medical School and Brown in 2003-2004 to demonstrate that resveratrol has remarkable effects of calorie restriction linked to delay aging in all species tested from single cell organisms to primates which may increase their life spans up to 70%. In addition to SIRT1 activation by resveratrol,
Revers♥e-vine® ingredients exhibited another SIRT1 activator thought to be from Trans-e-Viniferin. Trans-e-Viniferin is found in the cane, vine, and stems of the grape, and is believed to have benefits beyond that of resveratrol alone.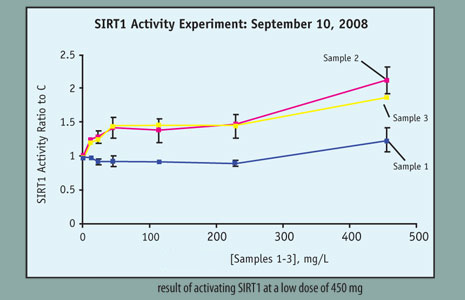 MULTI-MARKETING FUNCTIONS: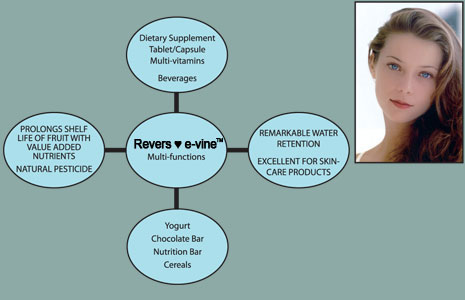 REVERS♥E-VINE® PROLONGS SHELF LIFE OF FRUIT, REMARKABLE WATER RETENTION, AND VALUE ADDED NUTRIENTS

Fruits and agriculture products are exposed to pathogen's that attack and natural biological processes of deterioration during storage. Resveratrol (3,5,4-trihydroxystilbene) has been described as one of the most important molecules for resistance to fungal diseases. Revers♥e-vine® ingredients work as a natural antibiotic to reduce microbal contamination. Its nutra-protection in fruit preserves during post-harvest to delivery to the market without the risk of spoilage and with added nutrient value.
Revers♥e-vine® treatment inhibits mold and yeast development on grapes, tomatoes, mushrooms, and fruits, and preserves water content without effecting fruit firmness or nutrition.
The use of Revers♥e-vine® as a natural pesticide and fertilizer are being investigated.
 REVERS♥E-VINE® – IN VIVO DEMONSTRATES THE INCREASE IN SOD (SUPER OXIDE DISMUTASE) ACTIVITIES BY 35% COMPARED TO RESVERATROL ALONE EXTRACTED FROM POLYGONUM CUPSIDATUM.
RESULTS:  Revers♥e-vine® ingredient delivers positive high antioxidant activities in blood serum, demonstrates to reduce cell oxidation, and increases SOD by 35% compared to polygonum cuspidatum (also known as Japanese Knotweed).
The study was conducted on 50 subjects divided into 5 groups of 10 each. One control group received no treatment, one placebo group was treated with sugar water, one group received 95% Resveratrol extracted from Polygonum Cuspidatum, one group received a mixture of red wine and grape extracts, and one group received Revers♥e-vine® extracts. Blood samples were taken daily and examined for cell oxidation and SOD activities. At the end of the 30 day trial, the control group and placebo group showed no change, the other groups all showed anti-oxidant activities, and Revers♥e-vine® ex-hibited the highest anti-oxidant activities and increased SOD by 35% compared with other two.
CONCLUSION: The study concluded that Revers♥e-vine® demonstrates a high profile of antioxidant activities and when the supplement is taken on a daily basis it is clinically and scientifically proven to reduce cell oxidation in blood serum.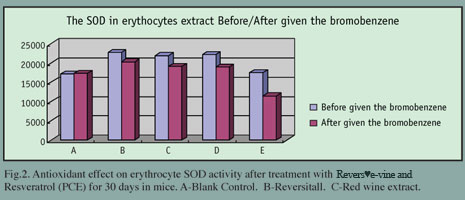 NEW RESEARCH SHOWS THAT RESVERATROL SUPPLEMENT ALONE MAY NOT BE SUFFICIENT
It is important to note that studies have shown that taking resveratrol alone may not be enough. According to Dr. Xi Zhao-Wilson, PhD, resveratrol is derived from natural plant extracts and usually in a mixture with many other molecules. In order to obtain the "optimal bioavailability and synergistic action" of resveratrol some of the other molecules that make up the stilbenes may be needed.
Revers♥e-vine® offers a combination of all necessary molecules creating a natural environment wherein resveratrol can be more effective.
Revers♥e-vine® contains all-important nutrients especially Trans-e-Viniferin or (E)-e-Viniferin (a natural phenolic compound a resveratrol dimer) that, like trans-resveratrol or (E)-resveratrol [3,4′,5-trihydroxytrans-stilbene], is present in grapevine. Unlike trans-resveratrol which in vitro, ex vivo, and in vivo experiments has shown a number of biological activities including anti-inflammatory, antioxidant, platelet anti-aggregatory and anti-carcinogenic properties (for reviews, see, e.g., Aggarwal et al., 2004; Alarcon de la Lastra and Villegas, 2005; Delmas et al., 2005; Olas and Wachowicz, 2005; Orallo, 2005; Orallo, 2006;Ulrich et al., 2005).
This newly discovered molecule, e-Viniferin, has been reported to induce apoptosis of leukemia B-cells (Billard et al., 2002; Quiney et al., 2004), to exhibit hepatoprotective activity in cultured rat hepatocytes (Oshima et al.,1995), to inhibit human cytochrome P450 enzymes (Piver et al, 2003), and to have antioxidant capacity (Privat et al., 2002). Revers♥e-vine® efficacy is backed by remarkable clinical research in vivo, vitro, and laboratory experiments.